sonic driving
Participatory Performance⎪Microtuin, Eindhoven⎪06/2022

The project Sonic Driving traverses personal experiences into a collective symphony, inviting participants to experience and practice connectedness through sound. In it, frequencies that can be felt in the body are channelled as a medium for synchronisation and co-regulation, reminiscent of ancient drumming practices. Using fingertip sensors, the participants' heart rates are captured and digitally converted into low-frequency sound, allowing them to hear and feel the pulse of themselves and others through individually assigned speakers. The beats are converged, turning the heart rhythms inside out across their inner and outer boundaries into a united track that invites a sense of connection and belonging on a troubled earth.
The project was developed in collaboration with Luigi Gjergjaj, Marko Milas and Robin Modjesch.
Get some

impressions

of Dutch Design Week 2022
here
or listen to the mixdown of a Sonic Driving example session:
Please note that the sounds were designed for a specific set-up. Hence, they may not match the original frequencies.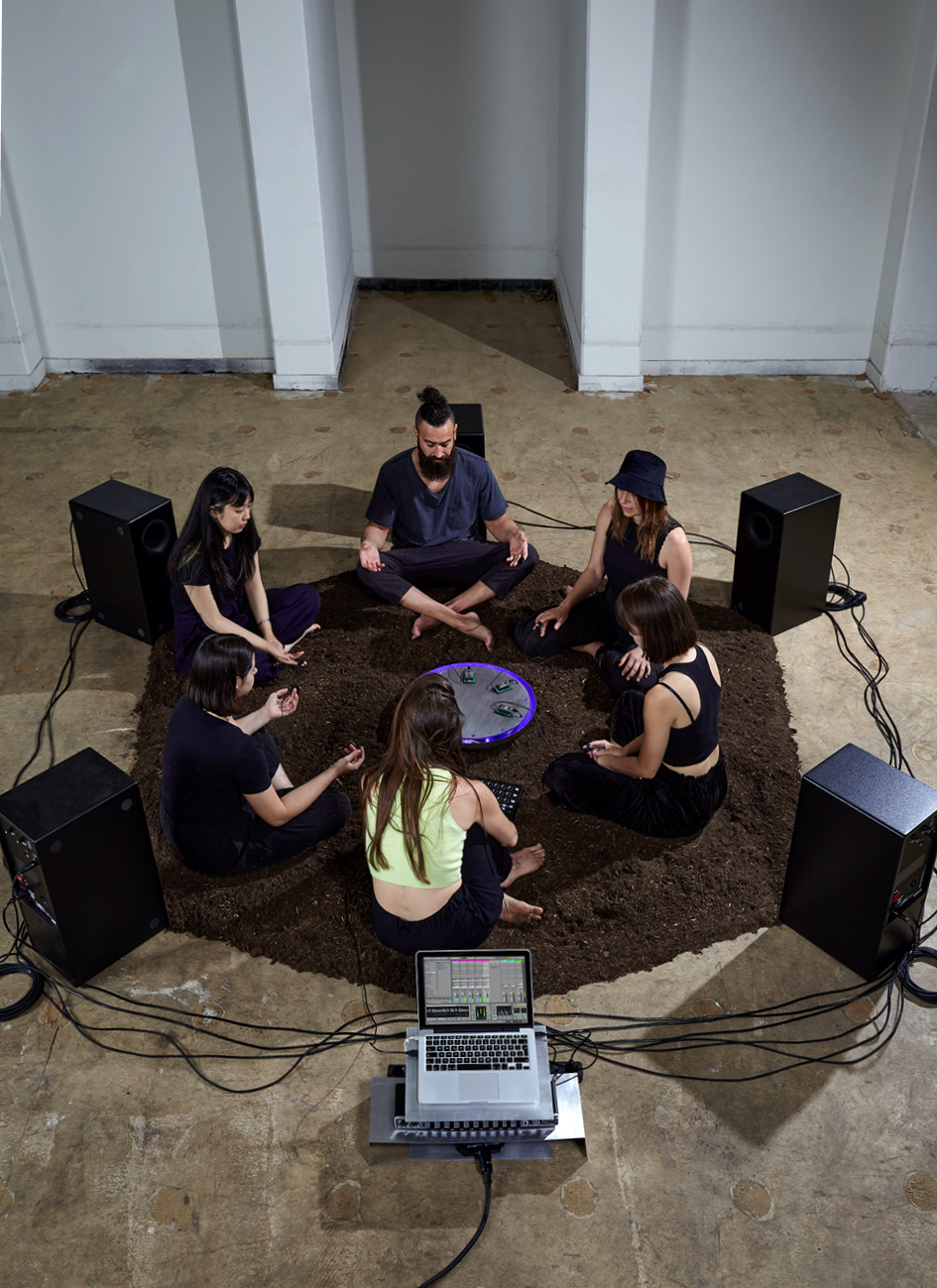 Sonic Driving @ DDW22, Photo Credits: Femke Reijerman
Sonic Driving // Echoes of Extraction @ NEW NOW Festival 2023: Hypernatural Forces, Photo Credits: Dirk Rose
// echoes of extraction

Participatory Performance⎪NEW NOW Festival 2023⎪Zeche Zollverein, Essen⎪06/2023

The history of Zeche Zollverein is marked by the exploitation of human and non-human labour, playing an important role in the industrial revolution and contributing to climate change. "Echoes of Extraction" engages with this traumatic narrative by exploring collective healing processes that establish a reciprocal relationship with the exploited entities of the mining complex through the power of frequencies. In a ceremonial session, the pulses of five participants are captured in real-time using sensor technology and translated into sounds reminiscent of industrial mining activities. The heartbeats set the rhythm of the composition, beginning randomly and gradually becoming increasingly synchronised as the performance progresses. Digital synthesizers transform the rather oppressive noise into a harmonic symphony, blurring the boundaries between past and present; technology and biology; corporeal and ethereal, and sparking a dynamic dialogue between our physical and cognitive perception. The ceremony intends to commemorate the many exploited beings of today's UNESCO World Heritage Site while fostering structures of care that acknowledge our techno-organic interconnectedness to the world.
newnow-festival.com
Sonic Driving // Rhythms of Relations @ Traumburg Festival 2023: TEXTURES
// rhythms of relations
Participatory Performance⎪Traumburg Festival 2023⎪Schloss Dornburg an der Elbe, Gommern, Germany⎪07/2023
In the context of the Traumburg Festival 2023, the project explores the topic of love and relationships in our modern techno-scientific world, challenging the conventional norms and cultural narratives in which technology often perpetuates patriarchal, colonial, and capitalist structures in the relations we have to ourselves and others. The project therefore acts as an experimental dating space, which weaves the principles of relational anarchy into its sonic textures. By redefining connections to ourselves, to each other, and to the world, Laura invites you to tune into a collective symphony that literally touches from within.


traumburg.net




Photo Credits: Eelco van Nielen ↓↓↓